April 20 - 30, 2020 (6 Participants Max, 4 spaces available)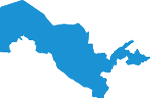 Until a few years ago it was very difficult to visit Uzbekistan and for that reason this Central Asian country was pretty much off the grid when it came to annual lists of "must see places" on travel websites. But all of that has begun to change in a big way! The Uzbek leadership recently embraced tourism as a source of economic growth and introduce tourist friendly policies to make it easier to travel about the country.
Sitting at a key point on the ancient Silk Road, Uzbekistan is awash in history: it has more UNESCO World Heritage Sites than any country in Central Asia, from the ancient walled city of Khiva (established 500 AD) with the tallest minaret in Central Asia to the stunning complex of buildings that make up the Registan in Samarkand. At every turn there are forts, markets, palaces, royal tombs, museums, mosques, and madrasas abounding in photo opportunities.
On top of that, Uzbekistan couldn't be a better host country for foreign visitors: it is quite safe, very clean, the food is delicious, English is widely spoken, and the locals are genuinely very welcoming of tourists. They practice a moderate form of Islam: alcohol is available, most women do not wear head scarves (except during prayers), and non-believers are welcome to visit religious sites - even in shorts.
Word of mouth is spreading fast among tour professionals about the hidden gem that is Uzbekistan. Within a few years it will likely become the "it" place to visit for world travelers. Beat the crowds and take a photo tour of Uzbekistan now!

$2,300 (double occupancy) / $2,800 (single occupancy)Includes all hotel accommodations and local transportation. (6 Participants Maximum). To begin registration please click here: register now!
Transportation. You will be responsible for all international transportation requirements. The photo tour will begin and end in Tashkent (exact hotel and meeting location will be provided after registration). Once the photo tour begins, all internal transportation costs are included in the registration fee including flights & airport transfers. We will be walking within city limits when possible. When moving between cities we will use private vans to get from city to city. We will begin our trip with a meet and greet on Day 1 in Tashkent and end on Day 11 in Tashkent.
Meals. On your journey you will have the opportunity try lots of local foods. All breakfasts will be included. No beverages are included. Please note that a couple of breakfasts will not be available right away because we will be leaving too early in the morning. Please bring 2-3 of your favorite power bars to get you through 1-3 hours before we can find something! There are no egg and cheese bagels on the streets of Uzbekistan!
Documents.Visa requirements for visiting Uzbekistan. Citizens of most western countries with a valid passport are required to apply for an entry visa to Uzbekistan. You may apply via your local embassy or consulate office. Although our session will only be in Uzbekistan if you plan to continue on in Asia and return to Uzbekistan after you will need to apply for a multi entry visa. You are responsible for fulfilling your own visa requirements. Registration does not include visa fees.
Itinerary. Your Silk Road journey begins with a welcome dinner in the capital city of Tashkent on April 20th. The next day we will explore the city's highlights, including the Soviet era subway system with its decorated stations. Along the way you'll stop at main mosque at the Hazrati complex which hosts the world's oldest Quaran. The day will end at Chorsu Bazaar to photograph the market and have some dinner.

Day 3-4 We'll fly to the ancient walled city of Khiva, founded over 1500 years ago! A
UNESCO World Heritage, Khiva is home to the tallest minaret in Central Asia and features a variety of ancient shrines and mosques plus the famed walls that can be climbed for spectacular views of the town at sunrise and sunset.

Day 5 We transit to Bukhara after breakfast and in the afternoon we will visit the bazaar
inside the "trading domes" that caravans along the Silk Road used for centuries on our way to the
striking Abdul Aziz Khan Mosque, which has been converted into a museum. This section of Bukhara is a charming pedestrian mall with all manner of shops, cafes and small historic sites to visit.
Day 6 we will start with the sunrise back at the Kalon minaret and from there we will visit the adjoining madrasa (religious school) and mosque with its unique 288 interior domes. After that we will visit the restored late 19 th century water tower outside the fort for the best views of the city, followed by a visit to Bolo Hauz Mosque. Time permitting we'll stop by Samanid Mausoleum and a local Synagogue. Sunset will be at the Kalon Minaret, brilliantly lit at night.
Day 7-9 We take a private van to Samarkand, the gem of Central Asia. The Registan is a
historic plaza ringed by a mosque, madrasa, and tomb brilliantly lit up at night. During the day this
UNESCO World Heritage Site is open to the public where you can get up close to some of the most spectacular architectural decorations anywhere in the world. As if that is not enough, the nearby Royal Tombs also dazzle with their intricate design work and high quality craftsmanship. A separate shrine houses the tomb Amir Temur and his family. Better known in the west as Tamerlane, Amir Temur is a national hero having conquered as much territory as Alexander the Great and Napoleon. He was also a patron of the arts and sciences and his reign is seen as a golden era of Uzbek culture and his magnificent tomb reflects his stature in Uzbek history.

Day 10 We will take a half day in Samarkand before heading back to Tashkent for the night.

Day 11 Departure day. You will be provided with transportation back to the airport. If time permits, you may want to visit the Amir Temur Historical Museum on your own.
Medical. As with all travel outside a first world country it is recommended that you have all of your childhood immunizations up to date and/or boosted. The United State's Center for Disease Control also recommends that you are immunized against Hepatitus A and Typhoid. For more information on which vaccinations are necessary please visit the CDC website. Please contact your doctor for further information.

Guides. Your guide for this journey will be Zim.